Fire Alarm Systems
Fire alarm systems save lives. It is truly that simple. Whether your building has been in operation for many years or it is still in its design/concept phase, carefully considering which type of fire alarm system will provide the best detection and notification of a fire event should be of the highest priority. Most buildings are required to have a properly designed and operating fire alarm system by local codes, state codes, NFPA 72, NFPA 101, and OBC/OFC, which makes the process of commissioning a new fire alarm system very confusing and difficult, not to mention frustrating, for a building owner or facility manager. Knowing which codes apply and, equally important, which ones do not can be the difference between properly protecting your facility/staff, under protecting them, or over spending on the project.
NICET (National Institute for Certified Engineering Technologies) provides a blueprint and certification process to certify experts in the design, management, installation, and maintenance of fire alarm systems. States such as Ohio have adopted these standards as satisfactory certifications for the licensing of individuals and companies to provide these services. Cline Fire maintains NICET certifications and individual and company licenses with the State of Ohio for fire alarm systems, which keeps us at the forefront of professional-level implementation on any size project.
Fire alarm systems are one of our core passions at Cline Fire, and that is why we have focused service revolving around the proper design, installation, service, and monitoring of fire alarm systems. We are fire alarm experts first, which allows us to keep a razor-sharp focus on changing codes, standards, and the needs of our customers.
Phases of Fire Alarm System Integration
Planning & Engineered Design – An initial review of the facility and related codes and standards identifies the proper type of fire alarm system required for installation. A set of engineered fire alarm plans, including shop drawings, calculations, and specific component information, is assembled and prepared to apply for a permit. We perform all of our fire alarm system design in house with NICET-certified and State-of-Ohio-registered fire alarm system designers. Performing this in house allows us to respond quickly to change orders and code officials requests, ensuring your project stays on track and on time.
Installation – Comprehensive installation of a fire alarm system includes cable installation, device installation, system programming, and system testing. All components connected to a fire alarm system have specific requirements for installation procedures, placement, and function. We ensure that all devices are properly fitted and installed to meet all applicable codes and standards.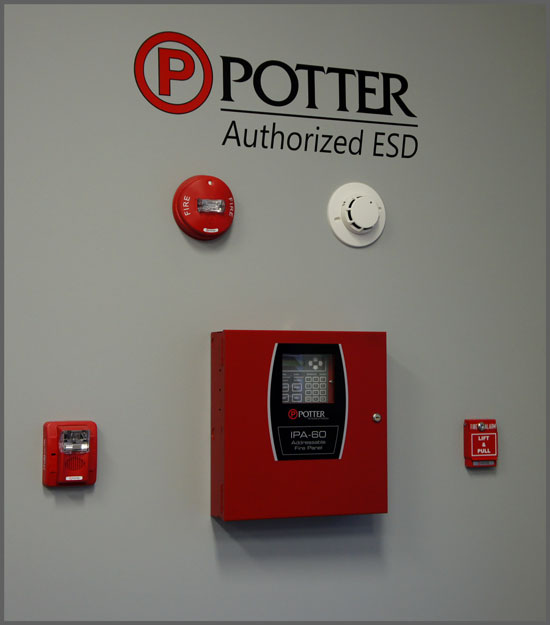 Initial Commissioning – Prior to placing a new fire alarm system into service, it must be commissioned. The commissioning process is a point-by-point, detailed performance evaluation of the entire fire alarm system. Ensuring that the original design intent is manifested into the building's environment, the commissioning process is an essential step to properly placing a new fire alarm system into service.
Monitoring – Each fire alarm system that is placed into service is required to be monitored by a U.L.-listed monitoring service station to provide fast notification and dispatch of emergency services in the event of an alarm condition. We use a 5-diamond rated (highest rating in the industry) monitoring service, communicating through a variety of pathways, including phone lines, network connections, and cellular radios, to ensure fast and reliable monitoring service.
Testing & Inspection – Fire alarm systems that are in service require an annual (sometimes more frequent) full functional test and inspection of all system components. Each component must be visually or functionally tested to ensure that it continues to operate properly as it remains in service. These inspections must be performed by trained and certified fire alarm technicians, and a full inspection report must be prepared and kept on record, verifying that the system owner is properly maintaining the system.