Pre-Engineered Fire Suppression Systems
In areas where a specific fire hazard exists, such as restaurant kitchen exhaust hoods and automotive paint booths, you may be required to install a fire suppression system. These systems are customized to the application but are considered pre-engineered (the manufacturer of the equipment provides detailed installation specifications based on the size and type of the hazard). Once a pre-engineered suppression system is installed, it will provide immediate and specific fire suppression, either automatically or with manual initiation, in the event of a fire. In addition to suppressing the fire, the system is also designed to integrate with the building fire alarm system for occupant notification and fire department dispatch, the fuel sources of the cooking appliances and the electrical sources of powered equipment so that they can be shut down, and the electrical systems controlling the HVAC/fan systems to keep from feeding fresh air into the fire area. All work related to pre-engineered suppression systems are required to be performed by trained and certified technicians.
Planning & Design – An initial review of the hazard area and planned equipment will help identify the proper system and configuration that will be required to provide fire suppression for your facility. We will perform this initial audit and produce a set of shop drawings indicating all system components and the proposed layout of the system. We provide all of our pre-engineered suppression system design in house, which allows us to respond quickly to change orders and code officials requests and ensure that your project stays on track and on time.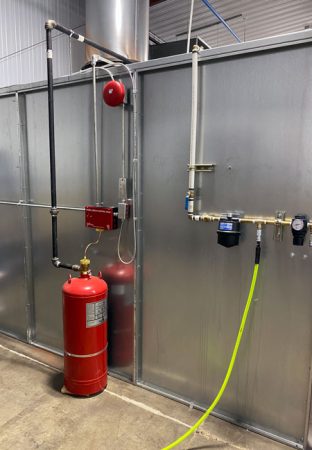 Installation – The installation of a pre-engineered suppression system (PESS) requires the combined skills of electrical, mechanical, and electronic know-how. From the chemical delivery piping to the electronic integration into the other building systems, we ensure that all components are fitted and installed in accordance with the manufacturer's requirements and meet all applicable codes and standards.
Inspecting & Testing – Once the PESS is installed, it requires frequent inspection and testing. In Ohio, these systems are required to be tested and inspected at not more than six-month intervals. Although the specifics of the required inspection and test can vary between the different manufacturers and types of systems, generally there are several components that need to be cleaned, tested, and replaced during this inspection.
Service & Maintenance – Inevitably the mechanical and electrical components of these systems may start to fail and require replacement or service or the manufacturer requires replacement of system components, including the fire suppressing agent (chemical), thermal detectors, and initiating cartridges. We maintain accurate records of the current condition and manufacturer's life-cycle service status of your system to ensure that it is being maintained properly and is at the ready when needed most.